At Gudog we are all about happy, healthy doggos.
Over the coming weeks we will be publishing a series of blog posts written in partnership with the brilliant vet team at FirstVet.
These will cover common pooch ailments and their symptoms, and will provide practical advice from actual (and very clever) vets on how to treat your dog at home.
Before we get started on the serious stuff, we wanted to find out more about what it's like to be a vet; the highs, the lows, and a behind the scenes view that you don't get to see on your visits to the vet!
Introducing Jessica May, FirstVet's UK Lead Vet

Having grown up on a farm in Herefordshire with livestock, horses, dogs and cats, Jessica always knew that she wanted to be a vet.

After qualifying at the Royal Veterinary College in London in 2012, she spent seven years in clinical practice before joining FirstVet in May 2019.

She lives in London, and travels regularly to the FirstVet HQ in Sweden.
I realised I wanted to be a vet…
…when I was a child. I was very lucky to grow up on a farm surrounded by horses, sheep, cattle, chickens and pets. My Mum suggested to me that I should do something that I loved, so I decided to become a vet.

They say you should never work with kids or animals…
…but I love working with animals because they have great personalities, are great stress-busters and there is never a dull moment.
When I first graduated, a labrador-cross was brought into the clinic because he was vomiting. X-rays showed a round foreign body in his intestine, which had to be removed by surgery.
The object turned out to be a favourite chew toy; the dog had got over excited and swallowed it. Fair enough, you might think. Until I tell you this was the second surgery he needed to remove the same toy!!

A typical day for me involves…
…talking with pet owners about their pet's concerns during 15 minute video consultations.
I also manage FirstVet's 12 UK vets, who are all RCVS registered, to ensure that we provide a first class professional service 24/7 to FirstVet customers. More recently I've also started working with other cool companies like Gudog to provide owners with the information they need to best look after their pets health and wellbeing.

The best part of my job is…
…talking to owners about their pets every day. Visiting a clinic can be stressful for pets, but because we're a digital service who consult via video call, I get to work with pets in their relaxed home environment.

The worst part of my job is…
…spending less face-time with animals. Though we do have a gorgeous dog in the office called Lenny, a street dog who was rescued from Kenya, who definitely makes up for it!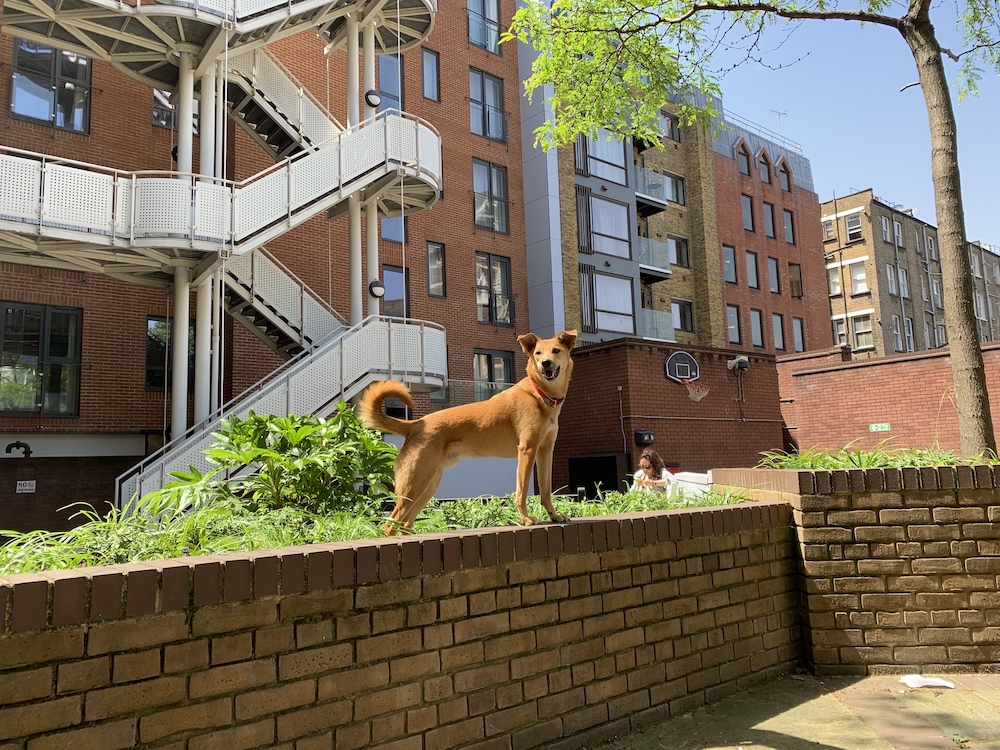 What they don't tell you when you're training to be a vet…
…is that for every exciting case there are a dozen vaccinations and anal gland cases…!! There are actually loads of things you're not prepared for; one is that everyday will be an emotional rollercoaster of welcoming new puppies and saying goodbye to old pets and ones you can't mend. That there is so much paperwork is another!
My professors also didn't tell me that I'd train for 5 years only to spend my first day qualified standing in a muddy field trying to herd cattle that don't want to be caught for their TB test…

What's the most surprising thing about being a vet…
The most surprising thing to me though is that there are so many exciting and varied jobs that you can do as a vet or a vet nurse. Friends of mine started a veterinary charity called StreetVet, which helps the homeless community and their beloved pets; while colleagues of mine are mentors and coaches for other vets.
Lots of my vet friends lead international charity work providing sustainable education for communities, with one even coming up with new treatment solutions for rhinos that have had their horns cut off by poachers.
There are roles you can take leading research into new pet nutrition, and pet-tech innovations, or you could even end up in the House of Lords representing animal welfare at the highest level of Government. And that doesn't even include all the clinical work done by vets everyday with our pets, farm animals and horses.

The animal I most dread seeing in my practice is…
…a tarantula, because…spiders are not my pet subject!!
I don't have any animal horror stories, but I have had one or two minor scrapes. I've been kicked by a horse, bitten by a cat and I've had a dog spray its anal glands on me, forcing me to wear theatre scrubs all day!!

My favourite animal is…
…probably a horse, because…they are amazing athletes and such a pleasure to work with. Very difficult to choose though!!

My most memorable moment has been…
…giving advice to a pet owner about their baby chameleon, because it's not every day you come across exotic reptiles and it was my first experience of treating one.
He had a tongue injury, which is common in baby chameleons because their tongue is so powerful and can get stuck to things by accident. I tried to replace his tongue, but it was too tricky, so I referred him to an Exotics vet. The poor little guy eventually needed to be euthanised as he was unable to recover from his injury.

When I'm not looking after poorly animals you will find me…
…visiting my two retired horses, catching up with friends, hiking, cooking, learning salsa or travelling. I lived and worked in Hong Kong for two years at the Hong Kong Jockey Club and I really enjoyed exploring Asia.

If I wasn't a vet I would be…
…something that involves being outdoors! Though to be honest, I can't think of any other job I would rather do!
Have a question for Jess the Vet about your dog's health?
Ask it here, and we'll send you Jess's response! You can also look out for answers to questions from other dog owners on Instagram, Facebook and Twitter, and as ever, on the Gudog blog.