Here are some cool gadgets to ease life for you and your dog, from keeping them dry to lighting them up at night. Really they are cool gadgets for you, but your pooch will reap all the benefits, and not to mention your car seats!
1. Silent chew toys
The Hear doggy may be silent to you, but for your dog it's just a regular squeaking toy. We all know that dreaded 'SQUEAK SQUEAK SQUEAK' noise, that can go on for hours (our dogs don't give up!) whilst watching a film or having a mid-day nap. Well, now a chew toy has been designed to squeak at a decibel humans are not able to hear, but is still perfectly clear for dogs.
So, your dog can make all the noise they desire from their colourful prey, without disrupting your time to relax.


2. The slo-bowl
Obesity and bloating are one of the main health risks for your dog. The canine appetite means they often eat too fast and then subsequently over eat. This cool gadget allows your dog's dinner time to become a game with the prize being food! They have to forage their way through the maze, pushing the food free.
They come in 4 different colours and patterns, with a rubber-base to hold the bowl in place. Your dog becomes engaged at meal time, eating a healthier more balanced meal.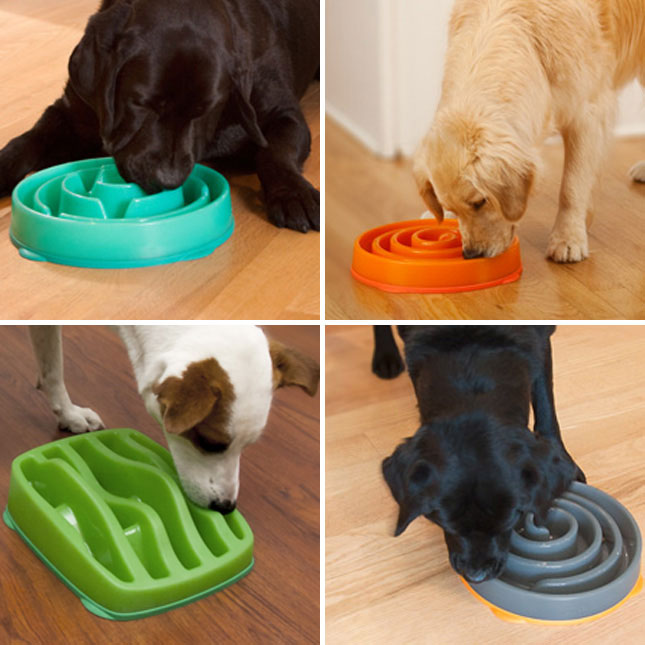 3. The Halo mini
The Halo mini is for all you Sci-fi loving dog owners, if you want your dog to resemble something out of Star Wars then this illuminated collar is perfect for you. Or if you want your dog to be easily seen by cars at night, then you two will love this gadget.
They are made from re-chargeable LED lights, they come in 3 different colours, and you can also get it in the form of a human size belt. So if you want to be a lit up duo, matching in style and safety then the Halo mini is for you!
4. Dog umbrella
We know for some of you the idea of an umbrella for your dog is ludicrous, dogs are meant to get wet, dirty, be at one with nature. However there are many examples where this would be great!
If your dog has just had a wash, they are riding in the car with you, or they are accompanying you to a friend's house or work. Well, now no more wasted trips to the dog groomer, dirty cars, or embarrassing lunch dates. The umbrella acts as a lead first, so no extra effort is needed, it's just like going on a regular walk and returning home with a slightly dryer pooch.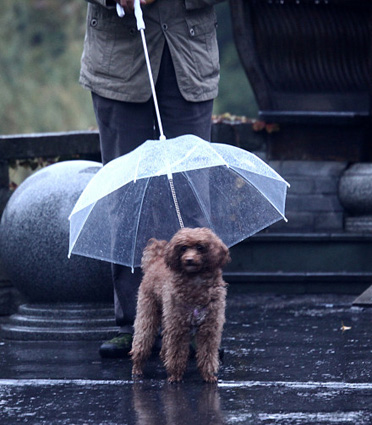 5. The car seat saver
It's a hero! It saves lives! doggie lives 🙂 Really the point of this hammock-like cover is to save your poor car seats from the mud, hair, scratches and general wear and tear your dog can cause. It is a simple idea, easy to use and 100% water-proof.
It does actually have a safety feature for your dog, preventing them from taking a fall during an emergency break or hard corner. You can drive comfortably in the knowledge your dogs and car seats are being looked after. The hammock can be found on any online shop.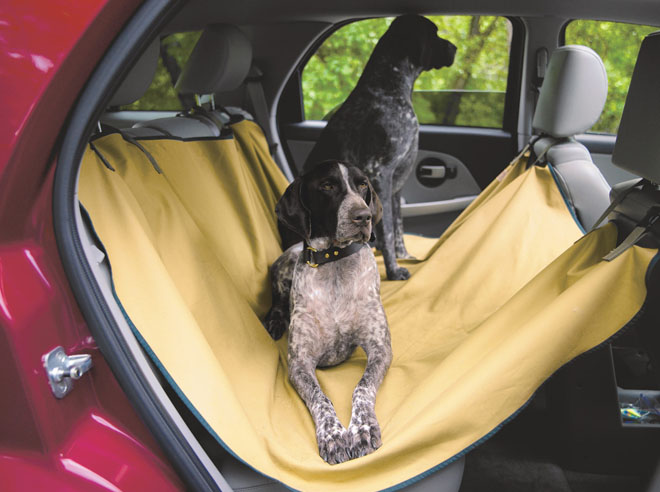 For more dog related articles Follow us on Twitter and Like us on Facebook!
You can now become one of the Gudog pack by applying online to be a dog sitter 🙂