The Frisbee is commonly associated with playtime in the park, lobbing the Frisbee as far as we can and waiting for our pooch to retrieve the disc in record time. Well, this park activity is now considered a dog sport, with competitions and trophies to be won.
In disc dog competitions, dogs and their human flying disc throwers compete in events such as distance catching and somewhat choreographed freestyle catching. The sport celebrates the bond between handler and dog, by allowing them to work together. The term "disc" is preferred because "Frisbee" is a trademark (held by Wham-O) for a brand of flying disc.
There are usually three categories to compete in:
Toss and fetch
Probably the most straight-forward of all the categories, this short distance event goes by many names, including toss and fetch, mini-distance, throw and catch, and distance/accuracy.
You have one minute to throw and retrieve as many discs, with increasingly longer distances. Teams are awarded points based on the distance of the catch, and there are extra points for catches where the dog is completely airborne.
Freestyle
This is event is where your creative juices can flow freely. The freestyle is a subjectively judged event that can last anywhere from one minute to two minutes. Teams are judged in categories that include Canine Athleticism, Degree of Difficulty, Showmanship, and so forth.
Incredible flips, hyperfast multiple catches, and spectacular vaults make freestyle a popular event with spectators. The freestyle is regarded as the cream of the crop in the disc dog world, it is the highest level of competitive accomplishment.
Long Distance
The QUADRUPED was an NFL draft day competition held in April 1996 for the Jacksonville Jaguars. This competition format is older than all other disc dog competition formats other than the Ashley Whippet and the FDDO formats. Originally a halftime show for football games with four frisbee dog teams competing to be the last team standing. It turned into an open competition where many more than four teams were able to compete.
Today we have The QUADRUPED Series, a group of competitions that are a points championship in the United States. The popularity has been so great within the frisbee dog world that it has spread to Europe where it has occurred in several countries.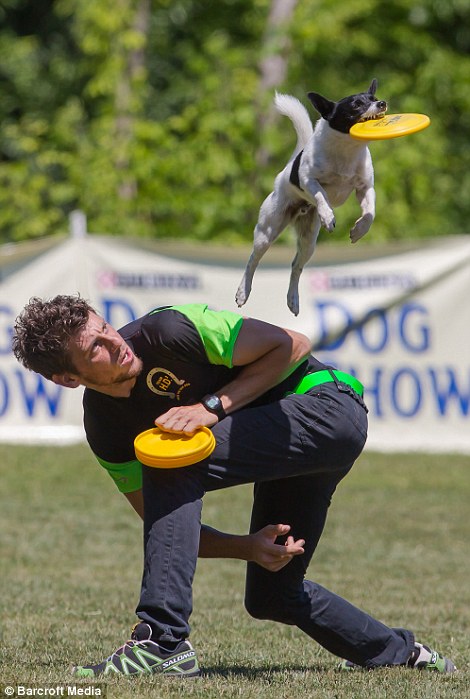 Why is it popular?
All you need is a dog, open space, disc and you're away, the accessibility of the sport makes it easy to do and even easier to train. Imagination is a plus for the Freestyle competition. It is estimated that over one million dogs play flying disc in the United States alone, though only a small percentage participate in organized competitions.
Disc dogs are enjoyed by many as half-time entertainment for basketball games, football, dance recitals, etc. You can also find disc dogs in amusement parks, county fairs and pet festivals of all kinds. Although there are a very small handful of trainers who actually make a living doing these shows.
Join in!
If you are already a disc dog pro why not try out some competitions? Skyhoundz is the most popular competition and takes place once a year in Europe.
If you are looking for a more relaxed way to get involved with disco dogs then why not try your local dog group, walking group or dog walker. The dog owner community are always in the know about doggie related events and clubs. If a local disc club does not exist where you live, start one!
Like we said before all you need is a dog, Frisbee, open space and you are ready to go.
Follow Gudog on Twitter and like us on Facebook for more dog related blogs!