Have you ever wondered where to take your dog for a walk in Glasgow? Here is a list of dog parks in Glasgow that you and your dog can go without having to worry about being thrown out. However remember, you should always comply with the house rules of any public space.
Kelvingrove Park
Kelvingrove Park is situated in the West End of the city along the River Kelvin. It is a beautiful Victorian Park very well connected by the Subway and bus routes and contains the famous Kelvingrove Museum and Art Gallery. There are many paths with varying degrees of steepness and picnic areas ideal for warmer days. There are areas of the park where dogs must be kept on leads but these will be indicated to you in the park. To finish up your walk there is the nearby dog-friendly Pelican Cafe on Argyle Street which will provide you with dog bowls of water and food.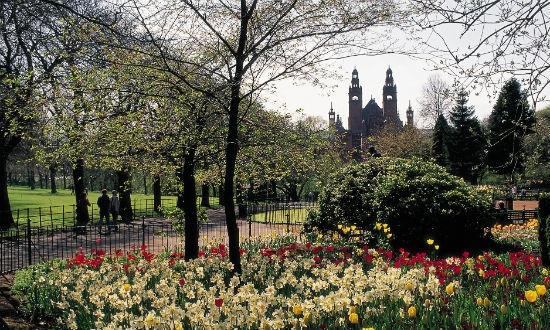 Bellahouston Park
This park covers an area of 71 hectares (180 acres) and is situated in the South Side of Glasgow. The park is full of horticultural highlights such as the walled garden with its fine collection of ferns and daffodils, the sunken garden and the horseshoe garden. It has a dedicated dog exercise area which is fully enclosed which is a great place to let your dog run free.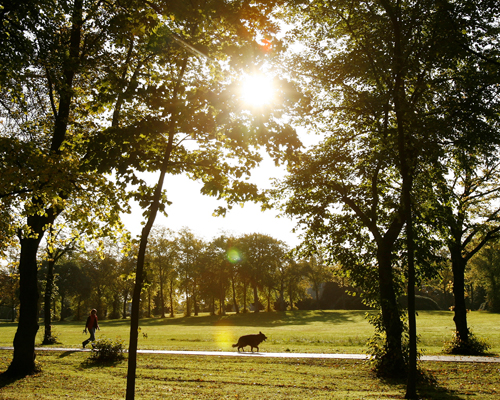 Glasgow Green
Glasgow Green is the oldest of the city's parks, having being established in the 15th century. It is situated in the east end of Glasgow on the north bank of the River Clyde. There are several notable monuments around the Green including the People's Palace, the Doulton Fountain, the Collins Fountain erected in 1881 and the impressive McLennan Arch designed by Robert and James Adam. The park covers an area of 55 hectares (136 acres) and is open at all times. There are areas where your dog has to be kept on the lead but also parts of the park that allow them to run free.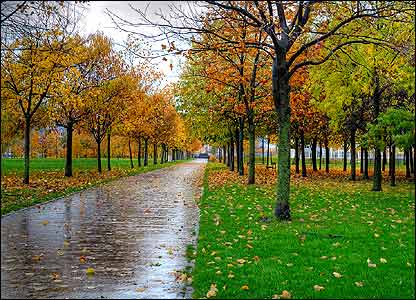 Pollok Country Park
Pollok Country Park Glasgow's largest park and is the only country park within the city. It is only 3 miles south west of the city centre and spans an enormous 146 Hectares (361 Acres). It has extensive woodlands and gardens full of wildlife so is a great sanctuary for visitors. It features the impressive Pollok House, one of Glasgow's most elegant family homes built by successive generations of the Maxwell family as well as the renowned Burrell Collection which features artworks from all corners of the globe. Within the park there is also a walled garden, a wildlife garden, woodland walks, riverside walks and Highland cattle. If you don't think your dog would get on with the cattle it's probably best to choose another park.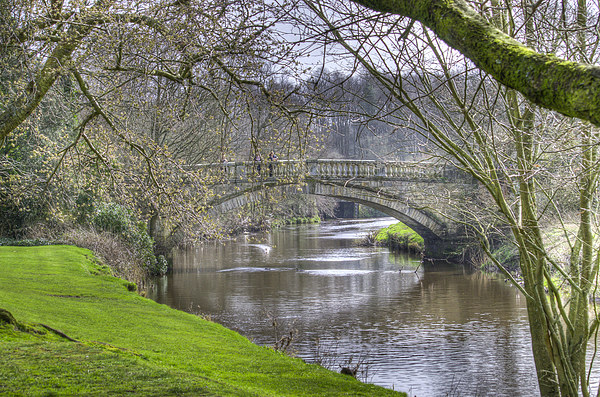 Strathclyde Country Park
A 20 minute drive from Glasgow city centre, this country park lies in the valley of the River Clyde. The park has excellent road and public transport links so is easy to reach from the city centre and has a range of terrain such as mature woodlands, rough wetlands and neat open parkland all surrounding Strathclyde Loch, the focal point for many of the park activities. It is a great place to let your dog interact with nature.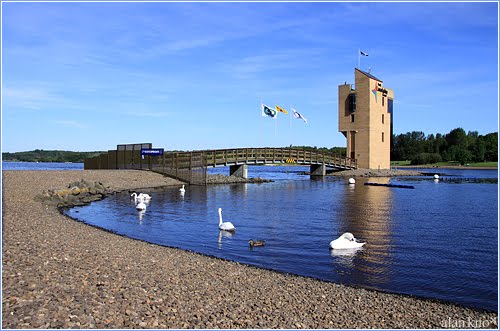 Mugdock Country Park
Mugdock Country Park is 10 miles north of the city centre and is easily accessible by bus and car. It is a great place for a day out with the family (including the dog), full of history with castle ruins, some WWII anti-aircraft gun-sites and the beautiful loch. There is also a great choice of eateries and many different trails for you and your dog to discover.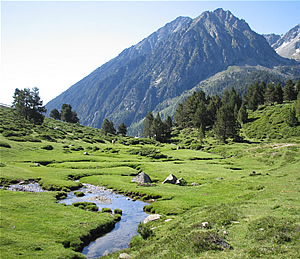 For more dog related news follow us on Twitter and like us on Facebook.
If you are looking for dog walkers or dog sitters in Glasgow, you can find one easily with us. Or if you fancy becoming a dog sitter with Gudog, apply now!