Dying your dog's fur is a thing favoured by celebrities Emma Watson and Mel B, and show-dog owners the world over.
Here at Gudog, we can't say we've ever tried it ourselves. Before we give this bizarre trend a go, we've done some digging into whether or not it is safe for your furry friend.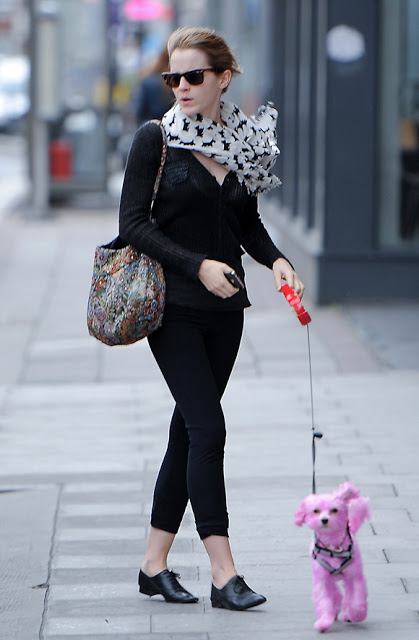 ---
Colouring dogs' coats first became a fad in China in 2010 when pictures began to emerge of dogs dyed to look like wild animals. Think what you're looking at below is a panda? Nope. It's a Chow Chow, dyed.
---
Can I dye my dog's fur at home?
Thinking of using some left over Garnier on your pup? No no no no no no no no. No.
Human hair dye is notoriously dangerous for pets. It's full of strange chemicals, and your pooch can easily be poisoned when they groom themselves after an at-home-dye-job. They can also cause irritation to the skin, hair loss and scabbing.
A common method used to dye doggo fur is actually food colorant; blueberries, beetroot, strawberries, carrots, saffron, spinach, red cabbage are just a few of many foods which release strong, natural colours. In the US owners have even used a drink mixture called "Kool-Aid". Again, avoid trying this at home without professional advice. Your dog might like the taste a bit too much and damage their fur or skin by over-grooming themselves.
If you're sure you can dye your pooch safely at home, make sure you use N.A.P.C.G approved products, and avoid getting dye around the mouth or eyes.
We'd highly recommend going to a profesh though.
---
Where can I get my dog's fur dyed professionally?
Groom Dog City in London are specialists in dog dying, and can transform your pooch with a rainbow of shade varieties using non-toxic dyes which are specially created for cats and dogs.
So go for it.
Share photos of your rainbow pooch, and keep up to date with all things canine by following us on Instagram, Facebook and Twitter.