Gadget insurance, travel insurance, life insurance, pet insurance… blah blah blah. Adulting is so boring. And expensive. But when you have a dog depending on you, adulting is very necessary.
Hooray then, that we're working with awesome digital insurer Waggel to give Gudog owners 2 months' free pet insurance.
Read on to find out more about the benefits of pet insurance, and why you should cancel your tired old policy and sign up to Waggel instead.
Why should you get pet insurance for your dog?
The PDSA have had a go at estimating the total cost of different types of pooches over their lifetime. One of our key take outs from reading their piece is that if your dog isn't covered by insurance, the cost of treating your dog following an accident or for long term health issues can be extortionate.

While your pooch is being cared for by a Gudog walker or sitter, they are fully covered for emergency veterinary care, which means you can be confident your dog will receive the best treatment possible should they get injured on our watch.

But what if your pup injures themselves when out about, or when a mate of yours is looking after them? What if your pooch gets out of the wrong side of the bed and injures someone elses' dog? Or, (we know you won't want to think about this), what if your dog contracts a chronic health issue? Having a good insurance policy for your dog is really important if you don't want to get caught out by an unexpected vet bill or long term treatment costs.

Let's spend some time trying to debunk the two main myths surrounding pet insurance.

1. Dog insurance is expensive
Policy pricing varies depending on many factors, such as the breed and size of your dog, and whether they have any pre-existing conditions. However, the annual cost of pet insurance is actually quite a few hundred quid less a year than the average claim in the UK – averaging £793!!
And with 1 in 3 owners needing to make a claim at least once a year, we think it's worth getting your doggo covered.
In summary: it is not a myth that pet insurance costs money. It's just likely to cost you a lot less money than the alternative, should you not be covered.
The big fat misconceptions are that a) it's unlikely you'll ever need to claim on your pet insurance, and b) that it's cheaper to just foot the odd vet bill here and there.
2. Dog insurance policies are complicated
Quite simply, there are a huge range of insurance policies on the market, with an even broader selection of companies to choose from.
Certain policies will trick owners with hidden exclusions buried in the T&Cs which mean they appear cheaper in the short term. Not fun.

Luckily things are beginning to change. Pet lovers are getting savvier, and with a few new insurtech start-ups popping up, finding the right insurance for your dog is getting easier.

Trusty review site Which? have analysed and compared 70 pet UK insurance policies and sorted them by best to worst. Take a look here. (You are welcome).

You're even more welcome though, that we've found new kids on the block Waggel, who are giving the Gudog community an exclusive 2 month free trial of their strictly no-nonsense pet insurance. Read on to find out how to claim.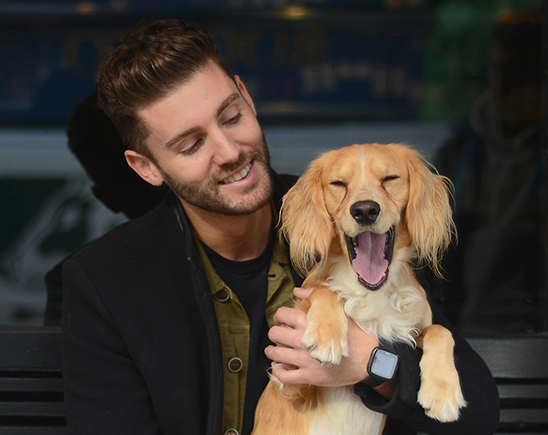 Who are Waggel?

Having only launched in January this year, Waggel are too new to appear in Which?'s list, but with their brand promise "pet insurance that doesn't suck" we thought we'd check out how they're trying to revolutionise the traditionally complex insurance space.

Waggel believe in one simple lifetime policy, completely digital, easily trackable, with no crazy hidden T&Cs.

They provide a totally digital service which means getting a quote and signing up can be done in 10 steps, and you can track the status of any claims in real-time.
The claims process is handled entirely digitally, which means no endless trails of letters or emails, and all your policy information is easily accessible in one place.

As if that's not great enough, Waggel will actually reward you for your membership, throwing regular member events, and giving you exclusive discounts from popular pet brands.
And if that's still not great enough, they're offering 2 months free insurance to the Gudog community until December 31st, 2019.
How to claim 2 months free Waggel pet insurance

All you need to do is:
Visit the Waggel website via this link.
Select the policy you're after and get a quote. Your 2 months free will be automatically applied. (Waggel have created a handy guide to explain all that insurance jargon which will help you when picking your policy.)

The price of your policy will depend on which breed of doggo you have, and their age. Depending which one you opt for, 2 months free pet insurance from Waggel could save you up to 200 quid!
What else do I need to know?
This offer closes on December 31st, 2019. So, in order to be eligible you need to have opened a policy before 23.59 on December 31st.
When you've signed up, you won't have to pay a penny for 2 months. Waggel will then take your first monthly payment in month 3. These payments will continue until your cancel your policy.
You can cancel your policy at any time, and you won't be charged a cancellation fee.
Insurance claims can't be made within the first 14 day of membership (this is standard with most insurance policies; it's a fraud-y thing).
If you make a claim on your Waggel insurance within the 2 month period, but cancel and move to another insurer, your pup will then need to be declared as having a pre-existing condition. You can read more about those here.
There are probably some things we've forgotten, but you can find full terms and conditions for all policies on their website.
You can read lots more advice on how to keep your doggo safe on the Gudog blog. Why not check out our post on how to get your pooch ready for winter?
Photo credits: Ursula Aitchison for Phodography LTD 2019