Every year people attempt to break world records and many of them succeed. They cover a enormous span of weird and wonderful, from achievements such as the world's most tattooed man to the longest duration living with scorpions. The Guinness Book of World Records itself holds a record for the best-selling copyrighted book of all time. However, it is not only humans that enjoy trying to beat these records, many animals also take part and here are some of the amazingly talented and unusual world records held by dogs.
Most tennis balls held in mouth
Augie, a Golden Retriever from Dallas, USA holds the record for most tennis balls held in his mouth at one time. In 2003 he managed to pick up and hold five regulation size tennis balls at the same time without any assistance from anyone!
Fastest 5 metres on front paws by a dog
Jiff, a Pomeranian from Illinois, USA is the fastest dog to run 5 metres only on his front paws. He broke this record in 2013, managing to do it in 7.76 seconds and also holds the record for the fastest 10 metres on his hind legs.
Longest tongue
A male Pekingese called Puggy holds the record for the longest tongue, measuring in at 11.43cm (4.5 inches). The measurement was taken in 2009 when Puggy was 9 years old. He has come so far, from being a stray dog to now being a world record holder. Congratulations Puggy!
Fastest 30 metres on a scooter by a dog
Norman the Scooter Dog from Georgia, USA broke the record in July 2013 for travelling 30 metres in 20.77 seconds. Can you beat this?
Tallest ever dog
Zeus, a Great Dane from Michigan, USA measured a massive 1.118 metres (44 inches) tall in October 2011 and has not been beaten since.
Smallest living dog (height)
Milly the Chihuahua from Dorado, Puerto Rico is the smallest living dog in terms of height, measuring in at only 9.65cm (3.8 inches) tall. That's even smaller than the average height of smaller breeds of rabbit and the same as the length of a hamster!
Longest ears on a dog
In June 2010, Harbor, a black and tan Coonhound broke the record for having the longest ears on a dog. His left ear measured 31.1cm (12.25 inches) and his right measured 34.3cm (13.5 inches).

Longest eyelash on a dog
Australian Labradoodle, Ranmaru, holds the record for having the longest eyelash on a dog. One of his right eyelashes measured in at 17 cm (6.69 inches) in Tokyo, Japan in September 2014 when Ranmaru was 3 years and 8 months old.

Fastest time for a dog to retrieve a person from water
On 11 June 2013, Jack the Black vom Muehlrad retrieved his owner, Hans-Joachim Brueckmann from the Kaarster See Lake in Germany in 1 minute 36.812 seconds over a distance of 25 metres. It was recorded for the Guinness World Records TV show and remains to be beaten. Do you think your dog could do better?

Fastest 100 metres with a can balanced on head
Sweet Pea, an Australian Shepherd/Border Collie cross from Illinois, USA won the world record on 3 September 2008 for the fastest dog to run 100 metres with a can balanced on her head, doing it in 2 minutes 55 seconds.
Fastest crossing on a tightrope by a dog
Osbert Humperdinck Pumpernickle, Ozzy for short, a chocolate and white Border Collie and Kelpie cross rescue dog from Norwich, England has been awarded the Guinness World Record for crossing a 3.5m (11.4ft) tightrope on his in 18.22 seconds.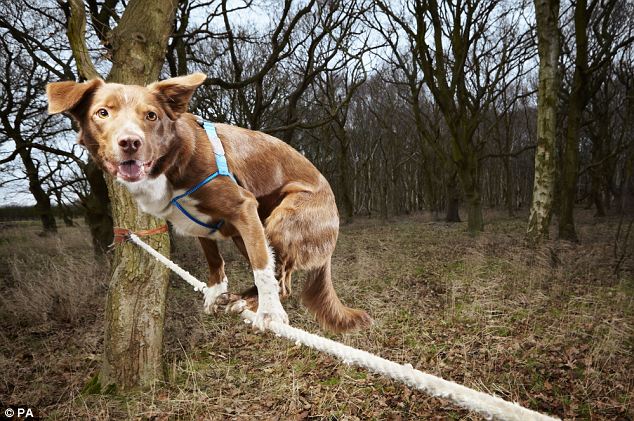 Does your dog have a special talent? Could your dogs be record breaking dogs too? Why not show us what your dogs can do and share it with us on Facebook or Twitter, or simply share stories and pictures with us of your dogs and the dogs you look after!