Songs of good cheer, Christmas is here! Once again, the Yuletide brings us its many delights: fairy-lit streets, presents, decorations, endless family dinners, crackers and heaps of mince pies, to name but a few.
While grown ups and children alike partake in the merriment, dogs should not be overlooked as Christmas installations can be a source of danger for our hairy friends.
December is the busiest month of the year for vets for a reason!
So if you want to spare yourself some extra stress, read our summary of the things to look out for during the festive season, particulary if it's your dog's first (or second) Christmas. Let's all have, pooches included, a safe Christmas!
Christmas decorations
During Christmas, people range from Grinch to Overenthusiast, but chances are that we all will one way or the other add a little touch of festivity to our house.
While most of us will rejoice at the sight of lovely home decorations, if we happen to have a dog in the family which isn't used to such a show of lights, tinsels and trees being put on, we may want to be careful to avoid an incident.
Lights
Is it necessary for us to say that you must not wind fairy lights around your pooch? Well YES! A funny picture is not worth electrocuting anyone. As these fairy lights are generally low cost and so low quality, they can turn out to be quite dangerous for your dog. Even if you happen to own high quality fairy lights, remember that each year they get unwound, rewound, used and used again and so they are easily damaged.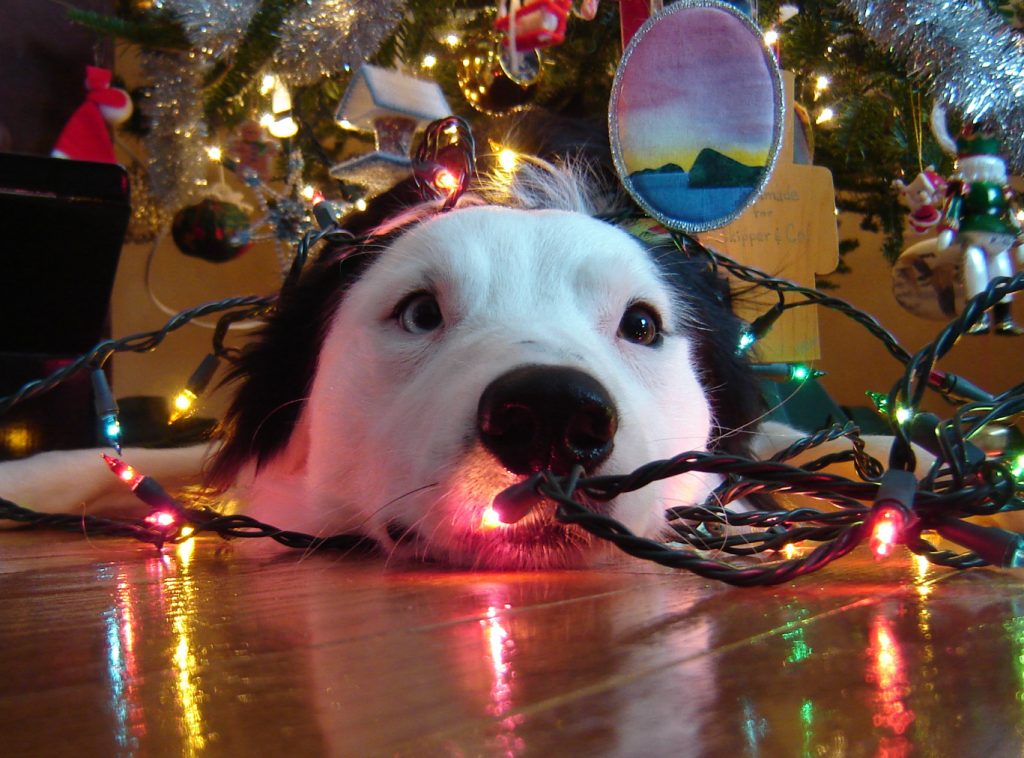 Around the Christmas tree
The Christmas tree is made up of various elements which can turn out to be hazards for your dog.
99% of tinsels are painted with sprays which are toxic for all beings, including dogs. Many tinsels are made with a metal wire (therefore dangerous!) to give the tinsel a specific shape. And that's without mentioning the fact that a dog could choke with a tinsel around its neck.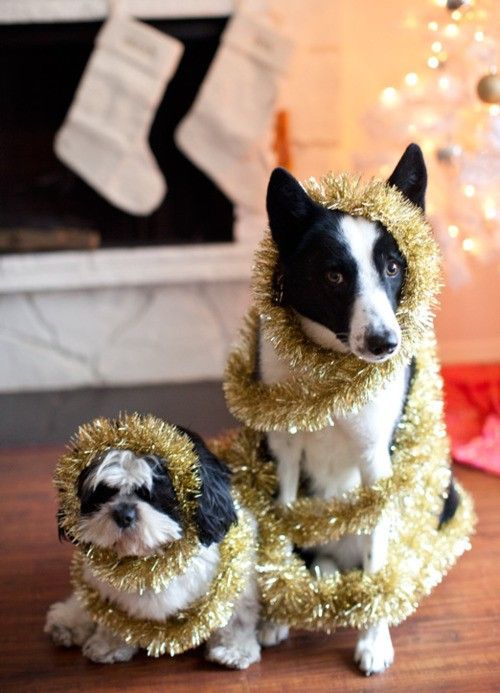 Small or big, Christmas baubles with their bright colours will catch your pooch's eye. Pick sturdy baubles (not those which break as they fall), and ones that are big enough for your dog not to swallow them. If you care about your baubles, hang them high up on the Christmas tree.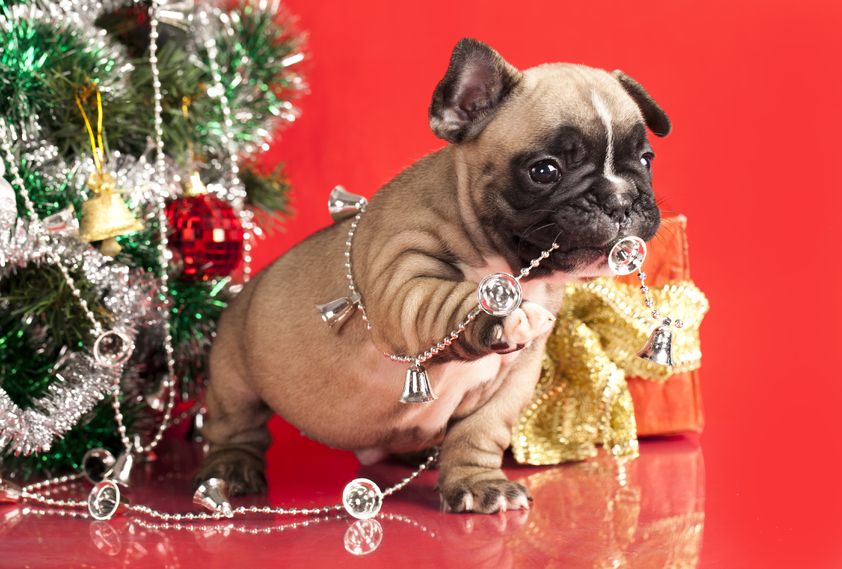 The Christmas tree itself
The tree's needles are called that way for a reason! They sting! If the tree sheds needles, your dog could swallow them or get them stuck in its paws. In order to avoid this, remove needles from the floor, even from the bottom of the tree, as often as you can. Artificial trees are also an option, even though we all like nice and authentic woody smells floating around the house for a few weeks.

The Christmas star or poinsettia
The Christmas star is not exactly new to Christmas enthusiasts but you may not have heard of it before. Poinsettia is also known as the Christmas star because of its star-like shape. It happens be extremely toxic as it produces latex and, in case of contact with the dog (or cat), it can cause bad reactions such as rashes, vomitting, diarrhoea, as well as eye damage (also applies to humans).

Candles
Although this goes without saying, and although our common sense naturally makes us look out for any source of fire or heat, we remind you that you must always keep an eye out for lit candles in the house. Your dog could burn itself, that's one thing, but it could also drop a candle and cause a fire. You may think that we're a little pessimistic but EVERYTHING WE TELL YOU HAS HAPPENED BEFORE to other people!
So remember to keep candles always high up, under supervision of an adult and far from any flamable items.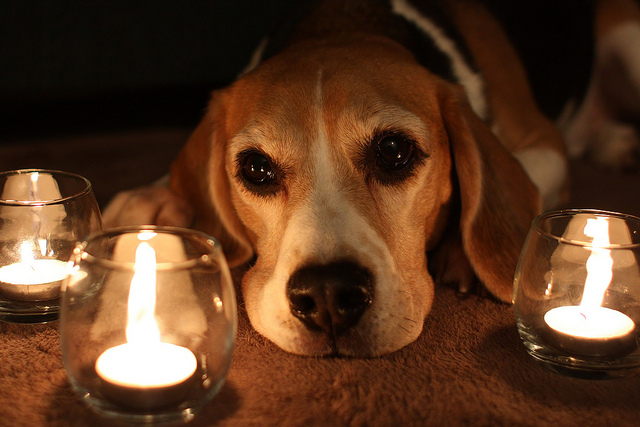 Christmas food
Chocolate and nougat will make the family happy once more this year, but remember that they are highly toxic for dogs and so keep them out of our four-legged friends' paws.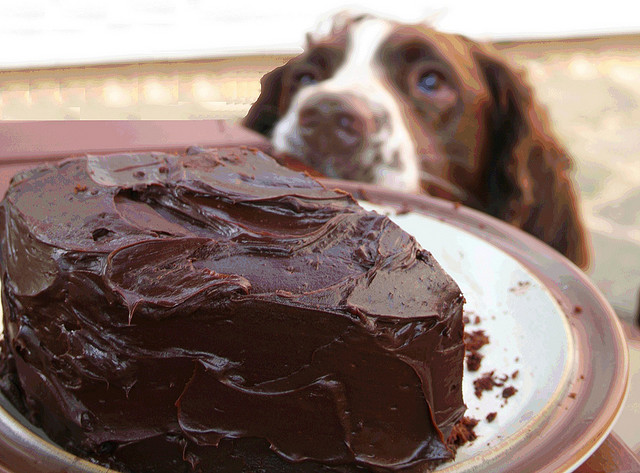 Merry (safe) Christmas to all!