Despite being heavily populated, dog walks in West London are still very popular – in fact, there's heaps of space for you and your pooch to explore. Being able to let your dog off the lead and let them run free does wonders for their physical wellbeing, giving them a good level of natural exercise.
And the mental stimulation that comes from your dog walks in West London is just as important, for dogs and humans alike! We can enjoy the scenery and surroundings as much as they can. Much like our canine friends, we tend to revel in being able to take in the countryside and unwind a little, while our dogs get to explore all the smells, fresh air and other four-legged friends they may come across.
Dog friendly parks in West London
So, without further ado, let's grab the dog lead, call out "walkies!" and check out the dog walking adventures West London has to offer. Their new favourite stroll might be just around the corner…
1. Chiswick House and Gardens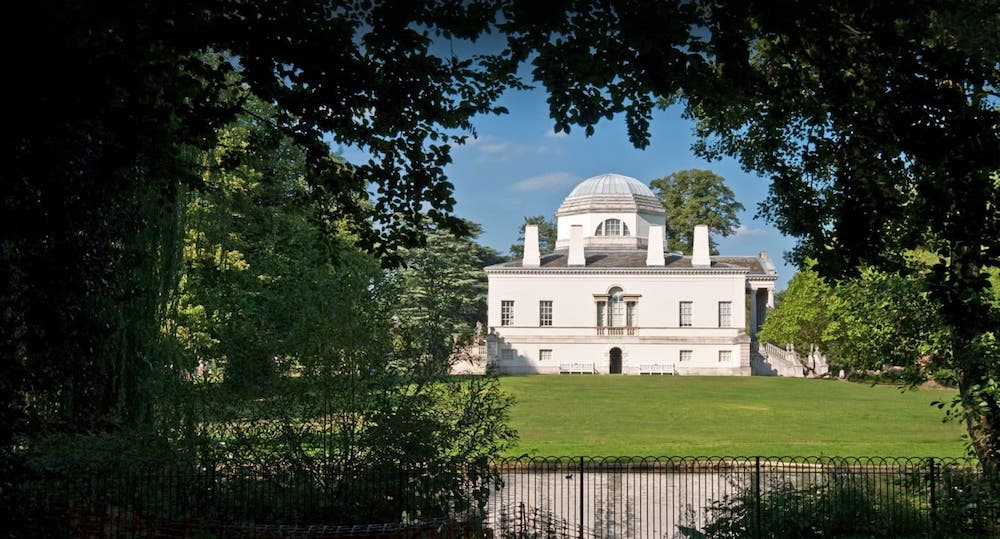 With large green spaces, beautiful gardens, woodland areas, waterfalls and a grandiose mansion at the centre of it all, Chiswick House and Gardens is a dog walking dream. Not only has the picturesque gardens inspired some of the greatest outdoor spaces the worlds ever seen, but its 65 acres of space means that you won't be short of areas to explore.
Does your dog like to play? There are large open spaces such as the Western Lawn or Cricket pitch where lots of dogs run free and play together. After they've been busy picking up on all the scents the garden has to offer, let them blow off some steam with a fun runaround with the other furry visitors. You can then refuel in the cafe, which serves top-notch food along with doggy sausages for any hungry pals – just note that dogs aren't allowed inside, but they can sit outside with you on their lead.
It's worth noting that not all areas are open to dogs, but the clearly marked out signage helps guide you around the grounds, making sure you and your pooch stay to the areas that are suitable.
Finding Chiswick House and Gardens:
By Train: Chiswick Station
By Car: Sat Nav – W4 2QN
Parking – £4 for 4 hours
2. Battersea Park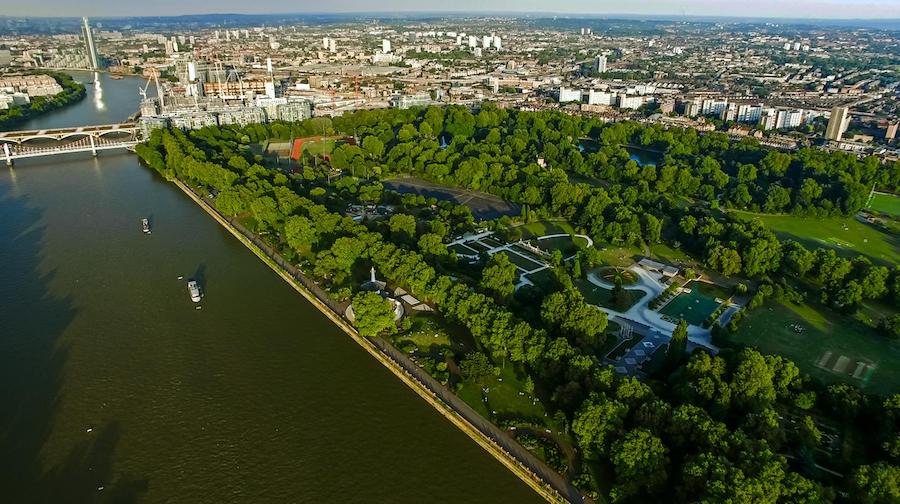 With 200 acres of glorious green space, Battersea Park is another doggy heaven. As one of the most popular and well-loved dog walking spots around, there are always more than a few other paws around to keep your dog enjoying the exercise and interaction.
From the central point, marked by the bandstand, there are many paths which lead to different areas of the park. It gives plenty of options for you and your dog: beautiful bridges, woodland areas, a lake and sub-tropical and old English gardens.
If so inclined, once you both need to recharge, there's the dog-friendly, open-air Pear Tree Café. A perfect place to grab some brunch with your best pal!

Finding Battersea Park:
By Train: Battersea Park
By Car: Sat Nav – SW11 4NJ
Parking – £8.10 for 3 hours (Monday – Friday) £5.40 for 3 hours (Saturday and Sunday)
3. Richmond Park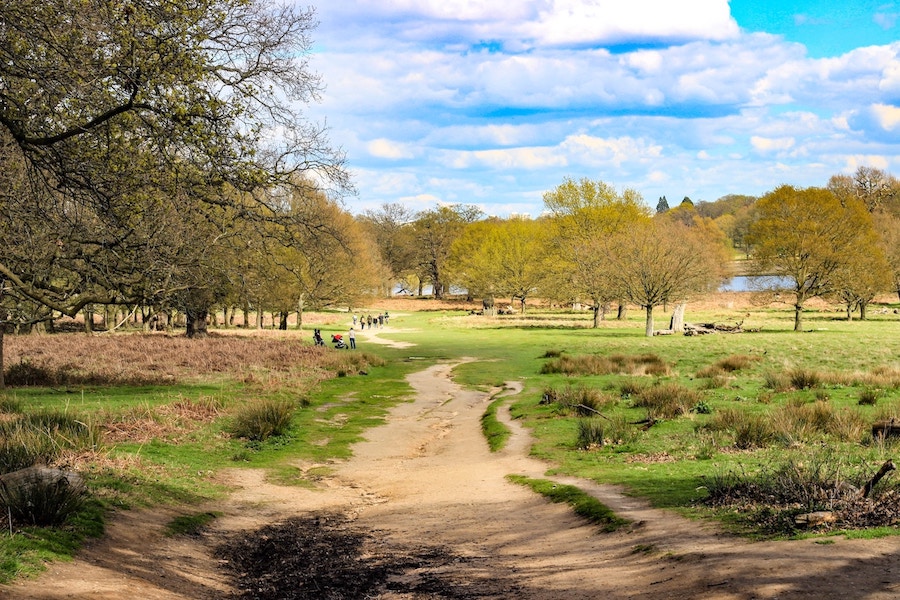 Richmond Park is full of nature and conservation. A beautiful place to visit for you and your dog; walking them through the many areas, including the Isabella Plantation, is nothing short of dreamy.
The vast greenery and oak trees is where the viral "Fenton!" video took place, which many of you may have seen. As such, it's very much advised that in certain areas you keep your dog on a lead, so they don't bother the herds of deer that call the park their home. However, with a further 2,500 acres to explore, there's plenty of space for your dog to roam free.

There are a few refreshment points dotted over the park for whenever you feel the urge for a pit-stop, whether you want to tuck into a bacon butty, freshly brewed coffee or ice cream.
Classed as London's largest site of Special Scientific Interest and a European Special Area of Conservation, Richmond Park has a rich habitat adored by wildlife, so you'll enjoy the surroundings as much as your dog will!
Finding Richmond Park:
By Train: Richmond Station
By Car: Sat Nav – TW10 5HX
Parking – Free parking
4. Gunnersbury Park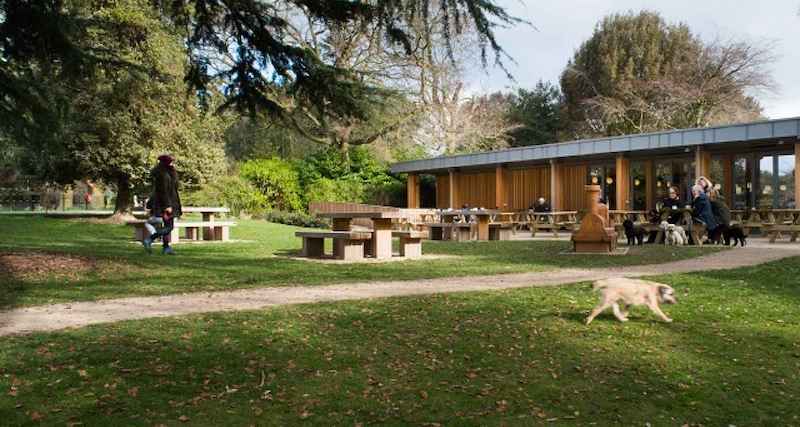 A large, free-to-enter park with free parking in West London that encourages dogs off the lead across the whole park? Yes please!

Saying that, the duck pond may provide too much temptation for your doggy, so make sure you keep them close by as you pass.
However, with 186 acres of woodlands, gardens and buildings, there are plenty of places to explore. Gunnersbury Park is known for how much it changes during the different seasons, so at any time of year, you and your dog can really enjoy the open spaces, taking in the array of meadows and interesting trees. Once you've worked up an appetite, treat yourself to a wood-fired pizza from the cafe.
A former home to the Rothschilds, it can now be seen full of happy dogs and their owners. Gunnersbury Park also gives your pooch the opportunity to socialise, while enjoying all the rich smells and open spaces it provides.
Finding Gunnersbury Park:
By Train: Kew Bridge Station
By Car: Sat Nav – W3 8LQ
Parking – Free parking
5. Bushy Park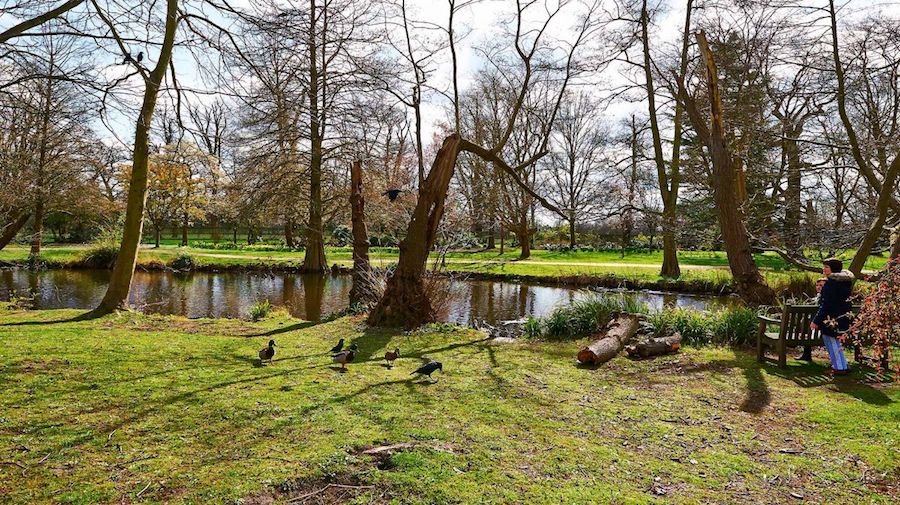 Bushy Park is really made for dogs. With large expanses of green, both long and short grass and well-defined walkways, there's plenty of opportunity to find your favourite spots.
Bushy Park is a royal park, so it does have a certain amount of restrictions, but is still very much pooch friendly, and while exploring the park's areas you'll see many other dogs doing the same thing. You'll also find the Pheasantry Cafe, located right in the heart of the park, where you can choose from the selection of homemade cakes and speciality coffees.
Home to the mile-long Chestnut Avenue and a collection of bird wildlife, along with the Diana Fountain, Bushy Park is sure to get their tails wagging!
Finding Bushy Park:
By Train: Hampton Court Station
By Car: Sat Nav – KT8 9AU
Parking – £1.50 per hour
Go grab the lead!
With an excellent choice of parks in West London, there's no end of places to explore together with your dog. If your pooch is a new addition to your family, you may want to look at our guide on 'your first walk with a new dog' which you can find here.
If you need some help walking your dog, here at Gudog we have a range of dog sitters ready and waiting to give your four-legged friend the long walk they deserve. You can find our experienced dog walkers here.

And if you have any other favourite dog walking destinations in West London, let us know – we'd love to hear from you!
What's the best dog walk in West London?
There are so many great places to walk your dog in West London. From Chiswick House to Richmond Park and everything inbetween. If you venture a little more central you've also got the very picturesque Battersea Park.