Dog toys play an important role in keeping your pup mentally stimulated, happy and healthy. The RSPCA summarises the benefits:

They provide intellectual stimulation, which can prevent destructive and disobedient behaviour
They're a great way for owners to bond with their animal
They can keep your dog active
Certain toys promote good doggy dental hygiene, as nibbling on them helps to keep teeth clean and healthy
How do I find a toy that my dog can't destroy within five minutes?!

If you've purchased toys for your pooch in the past, you may have been surprised by how quickly they're chewed to shreds!

That's simply because dogs love to chew – especially when they're in their adolescent stage, from seven to 12 months.

That said, excessive chewing may be a sign of boredom, teething, attention seeking or an unbalanced diet. If you've got any cause for concern for your hound, it could be worth visiting the vets or booking a video call with our pals over at FirstVet.

Most dog toys aren't usually designed to be chewed; they are typically designed to be chased, thrown, tugged and squeaked during play. They're often not made with durability in mind and will likely be destroyed quickly if your dog loves to gnaw on their toys.

Specifically designed chew toys are a great way to stimulate your pooch mentally and physically. They also encourage safe chewing, taking the focus off your sofa cushions and favourite trainers!!

To help you decide which one to buy your doggo, we've tried and tested the best chew toys on the market.
Our tester was Belle, an 8 year old Wheaten Terrier, and when we asked her she gladly accepted the challenge!
Her breed is notoriously boisterous and playful, and according to her humans, Belle is an expert in destroying toys in record time!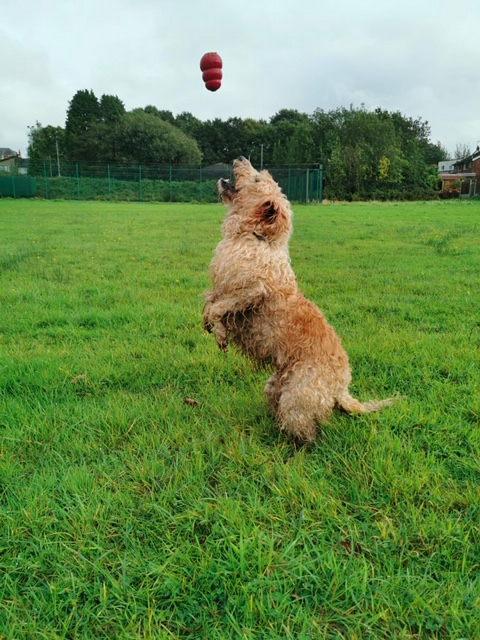 If you're planning on treating your dog for Christmas, best buy them quickly so that they're delivered on time!
Our top 9 of the best chew toys
This triple pack of bright, tennis ball-shaped toys are fitted with an air squeaker, so there's no choking hazard.

Why it's perfect for your pooch:

The non-abrasive felt won't wear down their teeth (unlike normal tennis balls)
They float in water
Great for pups who enjoy retrieval games
Review: Each ball lasted Belle an average of 8 minutes, with the squeaker taken out of action within 3 minutes! Even though they didn't last a long time, she had a lot of fun and the price offers good value.

This ball is ideal for outdoor play as it's easy to throw, and to spot! It's also great for games where you're in and out of the water as it floats.

Why it's perfect for your pooch:

Made from a non-toxic synthetic materials
Contains squeaker for noise stimulation
Comes in medium and large so suitable for most doggos
Review: The squeaker in this one lasted Belle just over 15 minutes, and due to its durability she didn't manage to destroy it. She stopped playing with it after about an hour, but came back to it over the next few days until we gave her another toy to test out!

Part toy, part treat dispenser, the KONG Treat Wobbler will dish out treats when your dog wobbles, spins or rolls it. It's more suitable for larger dogs.

Why it's perfect for your pooch:

Unpredictable movement keeps dogs stimulated
Can be used as an alternative to a dog bowl
Review: These are completely indestructible. Belle has had several of these over the course of her life, and the only reason we've needed to replace them was because we've accidentally lost them while out of walks!

Designed for extreme nibblers, this long-lasting power chew is made from the toughest nylon material.
Why it's perfect for your pooch:


Chicken and bacon flavour
Satisfies the natural urge to chew
Durable material means long-lasting enjoyment!
Review: Definitely worth the money; Belle finds these impossible to break. She does get bored with it though, as she prefers fetch to solo play.

One step up on the indestructible scale is the Monster K9 ball, ideal for breeds prone to chewing such as German Shepherds, Pitbulls and Mastiffs.

Why it's perfect for your pooch:

Made from industrial strength rubber, with a shock-absorbing design
7cm diameter makes the ball easy to throw
100% safe and non-toxic
Review: Belle will literally play with this ball all day if there is someone to throw it for her. She has spent some time chewing it, and there is barely a dent in it. Slightly more expensive than the other balls; for double the fun I'd buy a Kong instead as you can use them as a foodie treat, still play fetch with them, and they're pretty much as durable.

This interactive 'tug and toss' toy is made up of nylon-covered balls – including one squeaker – and long tails, making it easy to pick up and throw.

Why it's perfect for your pooch:

Perfect for interactive play – dogs love squeaking the Wubba and shaking the tails
Made with reinforced nylon fabric and durable stitching
Best suited to larger dogs
Review: Belle enjoyed playing with this one very much – if your pooch is into tug of war, they will love it too. The nylon cover really is indestructible, as is the squeaker… which can get a bit annoying over time.

If you're happy to part with some serious cash, what you'll get is one of the most indestructible chew toys around!

Why it's perfect for your pooch:

Perfect for teething puppies all the way to extreme adult chewers
Carbon reinforcement increases performance and durability
Interior ring features a red safety indicator to let you know when it's no longer safe to use
Review: Okay, we admit it. We're just not up for spending this kind of money on a chew toy. #sorrynotsorry. If your pooch does have this one, share your pics and vids with us on Instagram!

Hailed as one of the toughest balls around, Orbees have scooped up multiple 'Product of the Year' awards from dog magazines.

Why it's perfect for your pooch:

Uneven texture will break down tooth tartar
Floats for water retrieval
Minty taste makes it irresistible to chew on
Review: We like this one because it's a cool shape and texture, and Belle spends longer playing with it than her smooth chew balls. She's not managed to make a dent in it yet, that we can tell! The range online is endless – they even do a strawberry shaped one!

This interactive bouncy bone toy is perfect for strong chewers and comes with four treat refills.

Why it's perfect for your pooch:

Interactive toy that treats your dog and keeps them stimulated
Toy unscrews for easy treat loading and cleaning
Ideal for smaller breeds such as shih tzus, chihuahuas and pomeranians
Review: Belle loves this one. She doesn't even get bored of it when the rawhide treat runs out. We also played tug of war with her, because it's easy to grip.

Whichever toys and chews you end up purchasing for your pooch, make sure you supervise your pet when they play with them, and always ensure you buy the right size one for your dog; it could be a choking hazard if too small, or could cause a strain on their jaw if too big.

Dog toys to avoid

Before you head out to the shops to stock up on toys for your pooch, bear in mind that certain toys can actually be dangerous to dogs. When searching for a chew toy, avoid:

Stuffed toys, especially with Poly-Fil, which is a choking hazard or in some cases could cause intestinal or other forms of internal blockages.
Certain squeaky toys, as the noisemaker could be swallowed and so pose a serious choking hazard. The same goes for toys with bells.
Latex toys, as dogs can be allergic to latex which may irritate their skin
Vinyl toys with phthalate, which has been linked to kidney and liver damage. Very few dog toys contain phthalate, it if you're unsure it's worth checking the label.
Happy chewing!!